As the last days of 2020 rolled around, our Greek partners had a mission: having the Quadruple Helix Stakeholders shed light on the challenges facing the local agro-food supply chain!
Between 18 and 22 December, three virtual Focus Group meetings were organised in the spirit of co-creation and participation. These events were also the occasion of MED Food TTHubs to join effort with two European projects as well as a pool of recognised experts engaged in the agro-food and traceability sectors. Each of the three initiatives was interested to exchange views in the context of the development of innovative solutions in the field of agro-food supply chain. Hence, the decision to join forces and share common views with our stakeholders.
The Greek Focus Group reflects a balanced blend of different organisation types, stakeholders and expertise, providing a good representativeness of Greek food supply-chain. More specifically, it has been constituted by external stakeholders and auditors in representation of farmers, agro-food producers (e.g. fruits, meat or fish producers), standard organisation, technology providers, local authorities and institutions.
The events have been co-organised and co-leaded by CERTH, Green Projects and American Farm School. The first step was to inform the participants about MED Food TTHubs, its scope and objectives, as well as Focus Group's role throughout project's activities. Once the introductory part finished, it was time for interactive and fruitful discussions! The participants shared their experience on the challenges they currently face in the agro-food sector, as well as shed light on the needs and requirements for the implementation of traceability procedures.
By the end of the day, both organisers and Focus Group members were extremely satisfied feeling that they all provided a valid contribution to our project.
Stay tuned and don't miss all the upcoming updates!
Do you want to know more about the projects?
MED Food TTHubs
MED Food TTHubs seeks to support the implementation of full-path tracing practices through the whole distribution channel from seed to shelf in order to achieve safer and more sustainable Mediterranean food products for people all around the world.
https://tthubs.eu/
NextFOOD
NEXTFOOD drives the crucial transition to more sustainable and competitive agrifood and forestry systems development by designing and implementing education and training systems to prepare budding or already practising professionals with competencies to push the green shift in our rapidly changing society.
https://www.nextfood-project.eu/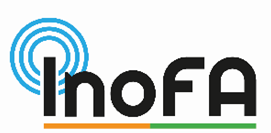 Cluster "Internet of Food Alliance – InoFA"
InoFA aims to the technological upgrade of the food retail supply chain through the development of digital solutions, which will incorporate cutting-edge technologies,  such as Internet of Things, and will serve the needs of the whole value chain, from producer to consumer.